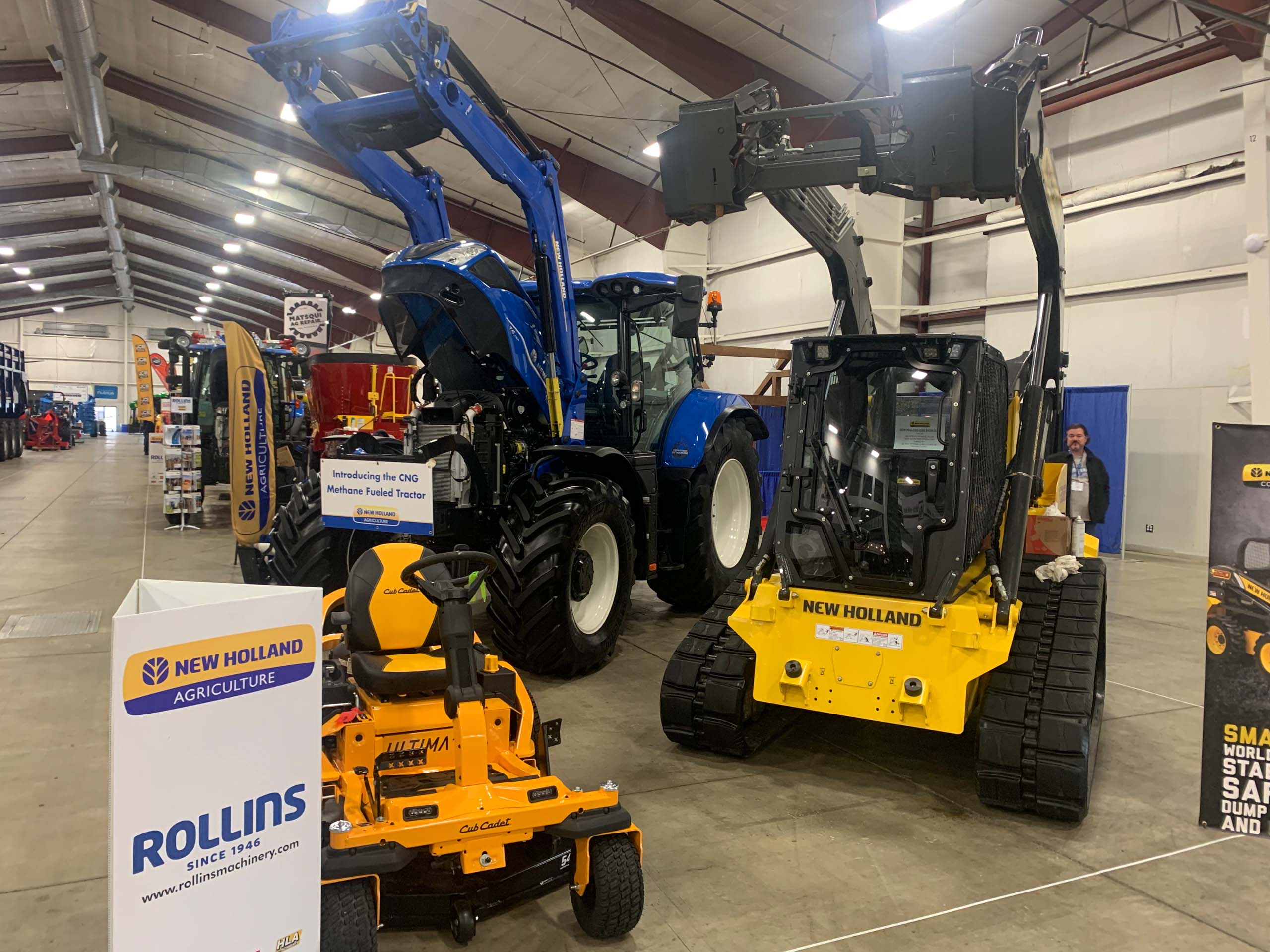 2023 Pacific Agriculture Show
explore our industries
Rollins Machinery Attends the 2023 Pacific Agriculture Show
Rollins Machinery is attending the 2023 Pacific Agriculture Show at Tradeex in Abbotsford. Some equipment we will be showcasing are the T6.180 CNG Tractor, New Holland C332 Skid Steer, Pottinger Tedder, and a Supreme Mixer Wagon. We are excited to continue to connect with people in the agricultural industry.
The New Holland C332 has a very comfortable cab. One of the new features to this unit, is the "creep" mode, and "Glide Ride" feature. This feature lets you travel at slow speeds, and being precise with your load during transport. (New Holland, 2022). This Skid Steer also has an "8 inch" display for your back up camera. On this display, you can also adjust engine settings. Finally, regular servicing can be done through the rear hatch of the Skid Steer (New Holland, 2022).
We are also displaying the New Holland T6.180 CNG tractor. T6 Series tractors are extremely powerful, offering you a maximum of 175hp! The T6 comes in 4WD and FWD. These machines are designed to improve your productivity on the farm, "with five models ranging from 95 to 120PTO". It is truly the workhorse of farm equipment. The cab is also extremely comfortable, with "low noise levels, ergonomic controls, and a Comfort Ride™ Suspension"(New Holland, 2022).
The Pottinger Tedder is the perfect unit for "ensuring a clean and tidy spread pattern, with maximum forage conservation." (Pottinger, 2022). The Tedder produces a "basic ration that is clean and nutritious" for the animals on your farm." The photo above clearly shows the Pottinger Tedder has the "best ground tracking"(Pottinger, 2022). Every rotor on this unit can adapt to every contour (Pottinger, 2022). Finally, we will have a Supreme 500 Mixer Wagon at the event. Compared to other mixers, Supreme stands out from the rest, as it uses the "heaviest two-stage planetary drive available"(Supreme, 2022). This Mixer Wagon is truly designed to rotate the toughest of materials.
We are excited to see you at the event! Come stop by our booth.
References:
New Holland. (2022). C332 Compact Tracked Loader. New Holland. https://construction.newholland.com/nar/en/equipment/compact-track-loaders/pages/c332.aspx
New Holland. (2022). T6 Series. New Holland. https://agriculture.newholland.com/en-us/nar/products/tractors-telehandlers/t6-series
Pottinger. (2022). Tedders. Pottinger. https://www.poettinger.at/en_ca/produkte/kategorie/zk/tedders
Supreme. (2022). Supreme Vertical Feed Mixers & Delivery Boxes. Supreme. https://supremeinternational.com/supreme-mixers/product/500-pull-type/