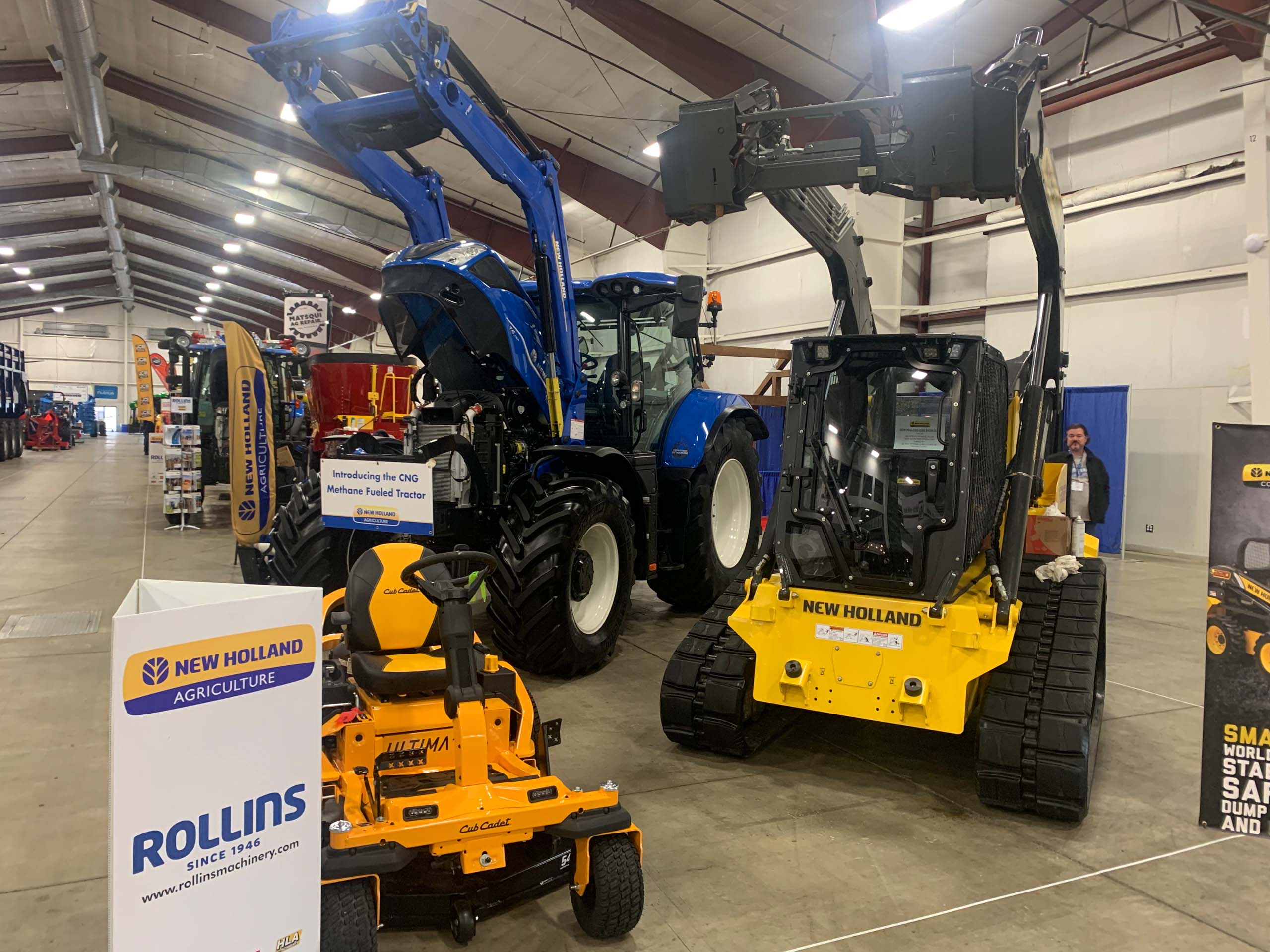 2023 Pacific Agriculture Show
explore our industries
Rollins Machinery Attends the 2023 Pacific Agriculture Show
Rollins Machinery is attending the 2023 Pacific Agriculture Show at Tradeex in Abbotsford. Some equipment we will be showcasing are the T6.180 CNG Tractor, New Holland C332 Skid Steer, Pottinger Tedder, and a Supreme Mixer Wagon. We are excited to continue to connect with people in the agricultural industry.
The New Holland C332 has a very comfortable cab. One of the new features to this unit, is the "creep" mode, and "Glide Ride" feature. This feature lets you travel at slow speeds, and being precise with your load during transport. (New Holland, 2022). This Skid Steer also has an "8 inch" display for your back up camera. On this display, you can also adjust engine settings. Finally, regular servicing can be done through the rear hatch of the Skid Steer (New Holland, 2022).
We are also displaying the New Holland T6.180 CNG tractor. T6 Series tractors are extremely powerful, offering you a maximum of 175hp! The T6 comes in 4WD and FWD. These machines are designed to improve your productivity on the farm, "with five models ranging from 95 to 120PTO". It is truly the workhorse of farm equipment. The cab is also extremely comfortable, with "low noise levels, ergonomic controls, and a Comfort Ride™ Suspension"(New Holland, 2022).
The Pottinger Tedder is the perfect unit for "ensuring a clean and tidy spread pattern, with maximum forage conservation." (Pottinger, 2022). The Tedder produces a "basic ration that is clean and nutritious" for the animals on your farm." The photo above clearly shows the Pottinger Tedder has the "best ground tracking"(Pottinger, 2022). Every rotor on this unit can adapt to every contour (Pottinger, 2022). Finally, we will have a Supreme 500 Mixer Wagon at the event. Compared to other mixers, Supreme stands out from the rest, as it uses the "heaviest two-stage planetary drive available"(Supreme, 2022). This Mixer Wagon is truly designed to rotate the toughest of materials.
We are excited to see you at the event! Come stop by our booth.
References:
New Holland. (2022). C332 Compact Tracked Loader. New Holland. https://construction.newholland.com/nar/en/equipment/compact-track-loaders/pages/c332.aspx
New Holland. (2022). T6 Series. New Holland. https://agriculture.newholland.com/en-us/nar/products/tractors-telehandlers/t6-series
Pottinger. (2022). Tedders. Pottinger. https://www.poettinger.at/en_ca/produkte/kategorie/zk/tedders
Supreme. (2022). Supreme Vertical Feed Mixers & Delivery Boxes. Supreme. https://supremeinternational.com/supreme-mixers/product/500-pull-type/
New Holland Presents the All-Electric T4 Tractor, and T7 Methane LNG Tractor
explore our industries
New Holland presents their all-electric T4 Tractor, and T7 Methane LNG Tractor at the dealer meeting in Texas. This is truly special, as this is the world's first "the world's first LNG tractor"(New Holland, 2022). Being emission free, these units will also be environmentally friendly, and reduce operation costs.
T4 Electric Tractor:
When designing the T4 Electric Tractor, multiple factors were considered, when comparing it to a diesel tractor. The T4 outperformed the diesel in terms of being more responsive, efficient, and increased traction control (New Holland, 2022). This unit will also save "you up to 90% in operating costs" (New Holland, 2022). This Tractor is well suited for low horsepower activites, such as working in Orchards and Vineyards, mixed farm and municipalities. It will also be possible to operate this tractor during quiet hours, as "noise is reduced by 90%"(New Holland, 2022). Finally the T4 Tractor Tractor is fitted with cameras and sensors. The tractor can also be programmed to the farmers desired settings. via a smartphone app. The "Shadow Follow Me feature allows machines to work together"(New Holland, 2022).
Reference:
NewHolland. (2022). CNH Industrial presents first electric tractor prototype with autonomous features. CNH Industrial. https://media.cnhindustrial.com/EMEA/CNH-INDUSTRIAL-CORPORATE/ALL/cnh-industrial-presents-first-electric-tractor-prototype-with-autonomous-features/s/2ccdb427-427f-44bd-809c-0548d5db51c5
T7 Methane LNG Tractor:
A few key focus points when designing the T7 Methane LNG Tractor was performance, sustainability, and increased horsepower. New Holland is "offering tractors above 200hp"(New Holland, 2022). This tractor is also extremely efficient, with 4 times greater fuel storage capacity then the CNG model. This reduces downtime of the time tractor filling up (New Holland, 2022). Carlo Lambro, Brand President of New Holland Agriculture noted how this prototype represents New Holland's commitment to sustainability. He also pointed out that biomethane, is the best available solution to reduce costs, and emissions.
Reference:
2. NewHolland. (2022). New Holland Pioneers Alternative Fuel Agriculture Machinery at CNH Industrial Tech Day. CNH Industrial. https://agriculture.newholland.com/eu/en-uk/about-us/whats-on/news-events/2022/cnh-industrial-tech-day-new-holland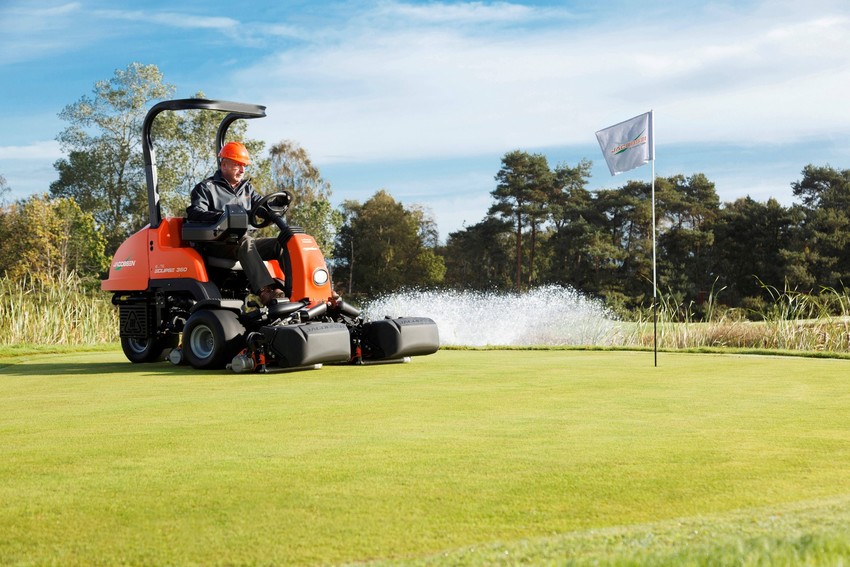 Rollins Attends the WCTA Turf Show!
explore our industries
Rollins Machinery attended the 2023 Western Canadian Turf Grass Association Trade Show at the River Rock Casino. Rollins showcased their various lines of turf equipment. This includes Tru Turf, Jacobsen, Turfco, New Holland Agriculture, and New Holland Construction.
The Jacobsen Eclipse 360 Elite is an all-electric, hydraulic-free mower. One of the key benefit of this mower is a "reduction in operation costs"(Jacobsen, 2022). As this unit doesn't have hydraulics, there is no risk of spills. Many golf courses also have holes surrounded by condominiums and apartments. As this mower is very quiet, it's possible for the grounds crew to use it during quiet hours, without disturbing the neighbours. The Eclipse 360 Elite is truly a top of the line mower.
We also showcased our Tru-Turf Greens Rollers. These rollers are "industry leading", in terms of keeping your greens in good shape, and fast. These rollers are being used on the PGA Tour, Champions Tour, and Nationwide Tour events throughout USA and Canada (Tru-Turf, 2022). When it comes to designing products, Turfco heavily focuses on product performance and efficiency. This is shown through the Turfco Widespin 1550 Broadcast Topdresser. This unit will save your grounds crew 720 passes (Turfco, 2022).
Finally, when it comes to moving material around the course, New Holland certainly offers the premium products. We have compact tractors, and various loaders in stock. We also sell New Holland Construction equipment, ranging from Skid-Steers to Mini Excavators. These units are all key to the landscaping of a great golf course.
References
Jacobsen. (2022). Eclipse 360 Elite. Jacobsen. https://www.jacobsen.com/golf-mowers/eclipse-360-elite
Tru-Turf. (2022). The only Rollers Endorsed by the PGA Tour. Tru-Turf. https://truturf.com/
Turfco. (2022). Widespin 1550 Broadcast Spreader. Turfco. https://www.turfco.com/store/c12/spinner-topdressers/p13/widespin-1550-broadcast-topdresser/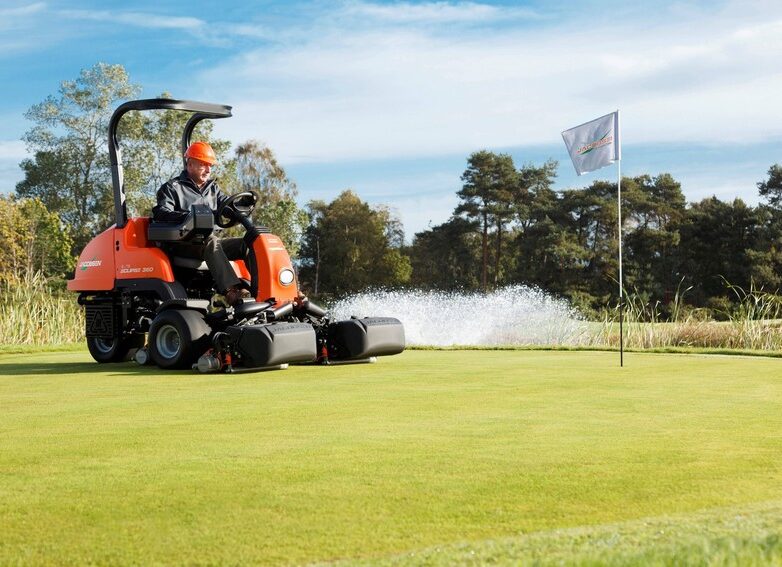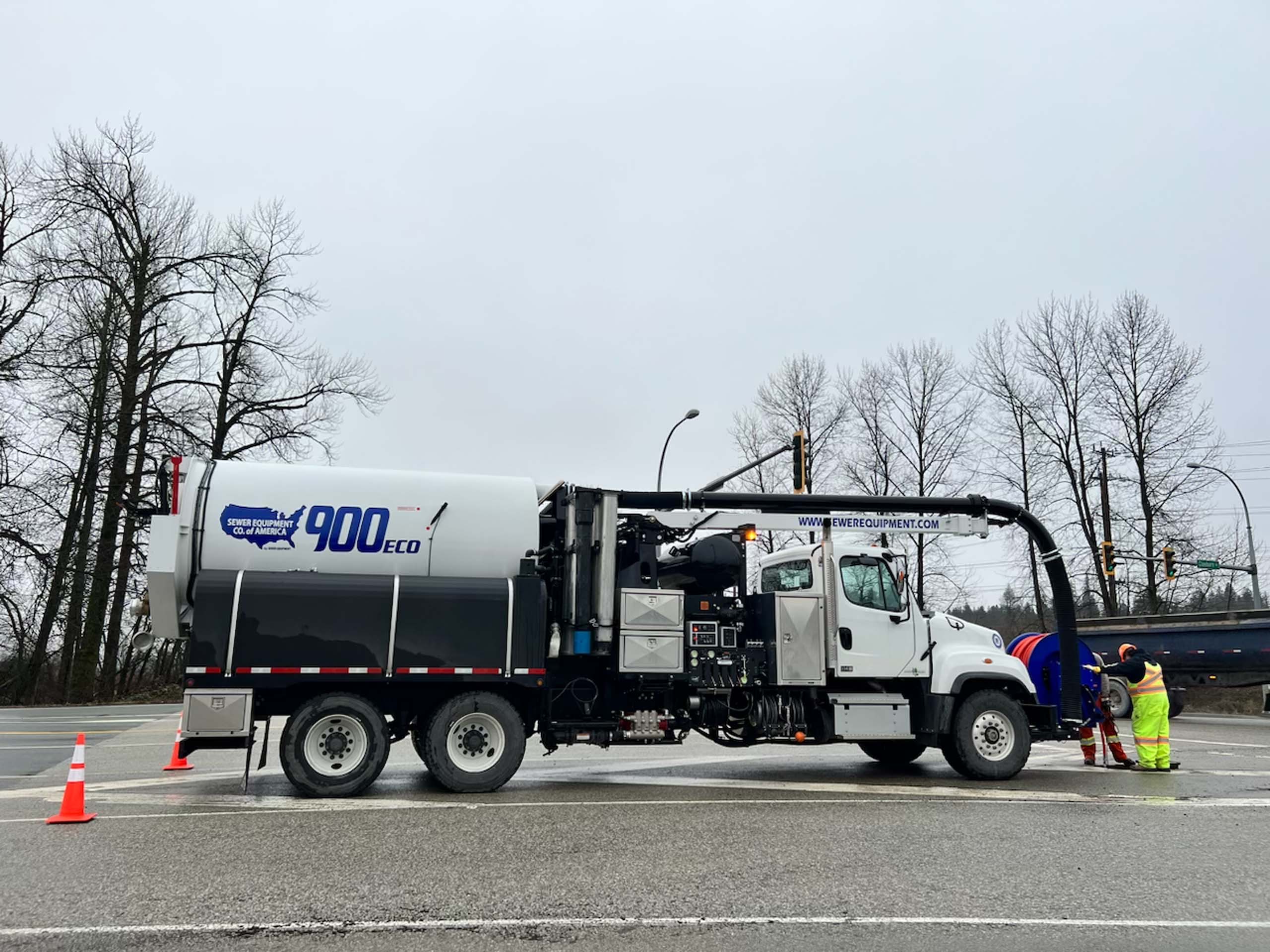 Rollins Machinery has a Sewer Equipment (SECA) 900 Eco on a Freightliner Chassis in Stock!
explore our industries
SECA 900 Eco in stock!
Rollins has a SECA 900 Eco on a Freightliner chassis in stock! The unit is simply safe, simple and reliable. "The "Hydro Drive" powertrain system allows the truck to operate in neutral when in work mode." Because there is no transfer case on this truck, it is safe for the operator when in neutral. The truck is also very simple to operate, with their only being 4 primary switches at the operator's station. Finally, the truck is extremely reliable. The operator can recirculate the load at high speeds.
Some of the benefits of the SECA 900 Eco is the following:
"Automatic Levelwind with hydraulic up/down action"
"Remote"
"Dig deep boom"
80 GPM Tank Flush
"No Washdown Gun necessary for end of day cleanup"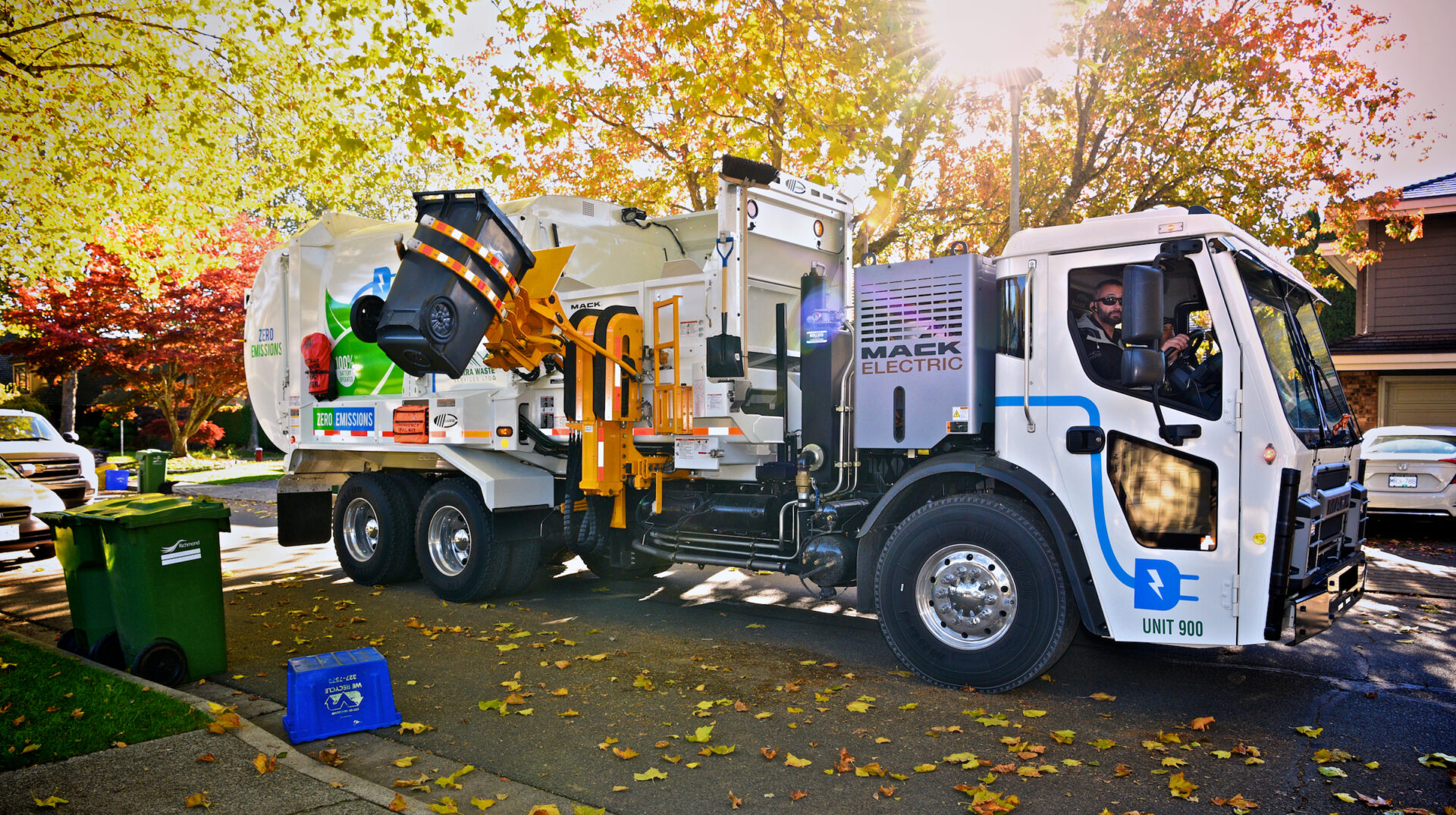 Rollins Attended the BCTA Summit, and the "Municipality's Eyes were on their Zero-emission Garbage Truck"
explore our industries
Rollins Machinery partnered with Pacific Coast Heavy Truck Group in bringing in a demonstrator Labrie Automizer on a Mack Lr Electric Chassis. One of the incentives in purchasing this truck is that there are provincial and federal government grants available. To make the event extra special, key guest speakers: Rob Flemming, Minister of Transportation, and Bruce Ralston, and Minister of Energy, mines, and low carbon innovation attended the event.
Will Emo, who represented University of Endowment Lands (UEL), mentioned his municipality, has been interested in replacing it's diesel fleet with electric ones for years. Minister Flemming, said "these vehicles will drive BC's economy towards a cleaner, more efficient future."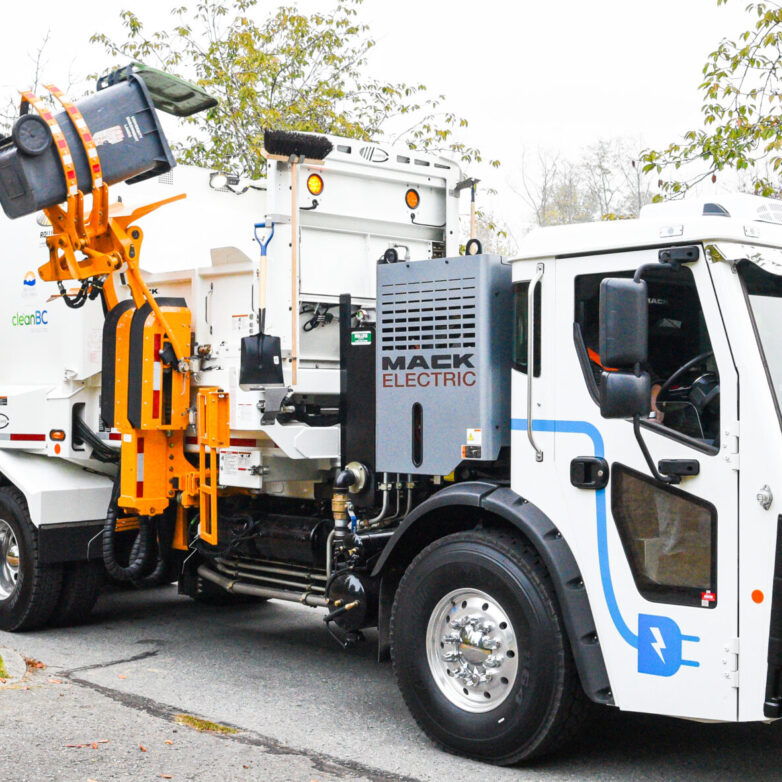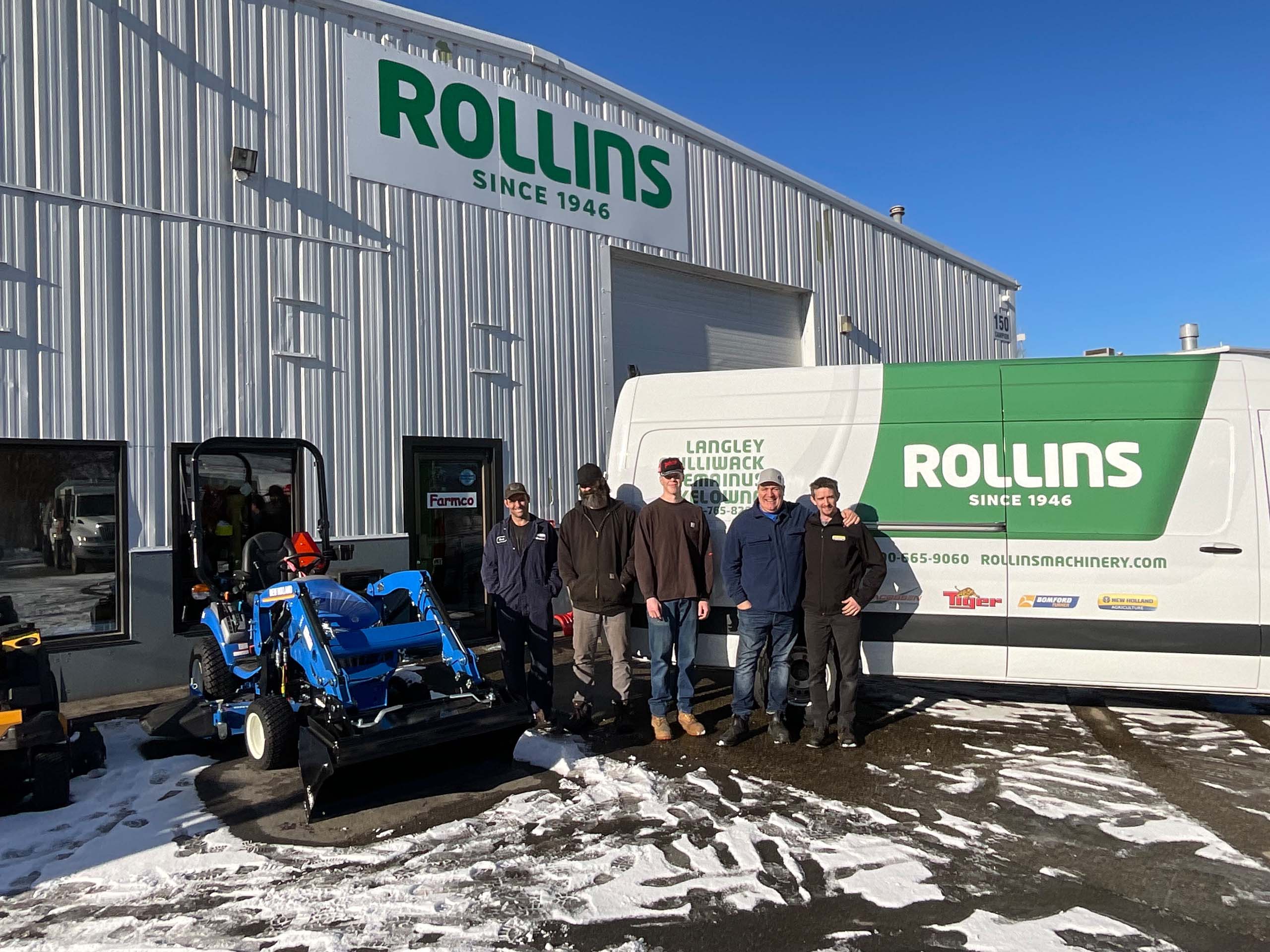 Rollins Acquires Farmco Sales In Kelowna, BC
explore our industries
MAR 04, 2020
Rollins Machinery is pleased to announce the acquisition of Farmco Sales in Kelowna, BC. As of January 8th 2020, Rollins has taken over all operations of Farmco and is working out of its Kelowna facility. Rollins has re-hired most of the staff including the previous owner, Paul Culos, who has agreed to stay on as Branch Manager.
Rollins is very excited to been awarded the New Holland contract for the Okanagan and we look forward to the opportunity to continue on the great work that Farmco staff have done over the past many years. The Kelowna office will be a full-line facility with Sales, Parts and Service, expanding the Rollins product lines and number of employees to support those products. In addition to New Holland, products will include Labrie, Johnston, RapidView, Vac-Con, Bomford, Tiger, Ventrac, Jacobsen and others.
Rollins will support sales and service for the Okanagan, North, and Eastern BC from this facility. We will have the opportunity to be the only dealer in many of our markets with a facility outside the Lower Mainland, which gives Rollins an advantage in sales and support of those products throughout the Province.
It is our objective to continue to re-invest in the company, looking for opportunities to help improve Rollins' presence and reputation in all areas of our business. The purchase of Farmco is a very positive step for Rollins to increase our market share and add future stability for all staff.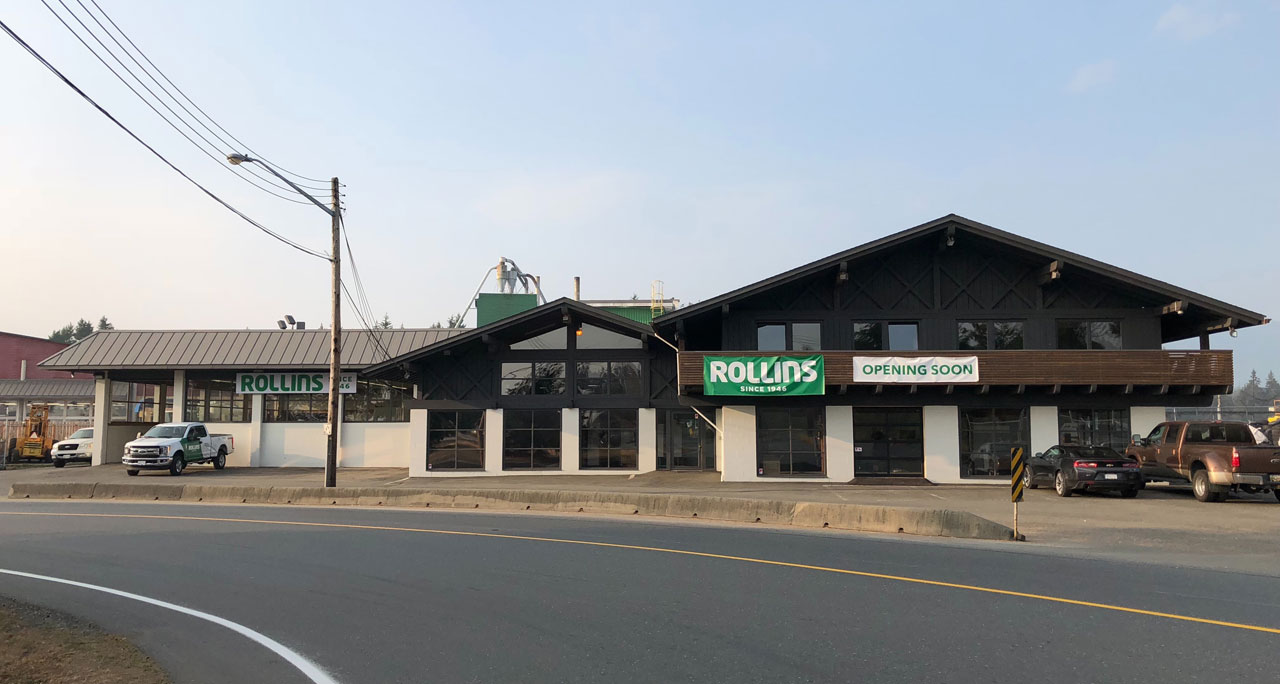 Rollins Machinery New Chemainus Office "Open For Business" On September 17th, 2018
explore our industries
AUG 28, 2018
Rollins Machinery is pleased to announce that we have been awarded the New Holland franchise for all of Vancouver Island. In order to better serve and support our existing and new Agricultural clients we are moving locations from Parksville to our new Chemainus office.
We are pleased to officially announce that Rollins will be "Open for Business" at our new Chemainus location at 3306 Smiley Road on Monday September 17th, 2018.
We invite everyone to visit us starting September 17th and check out our expanded front office and spacious service bay area. This new location will feature full Service, full Parts and full Sales departments.
An Open House event will be communicated at a future date and time.
We are excited to showcase our latest expansion branch and look forward to cultivating a premier flagship store and home for New Holland on Vancouver Island.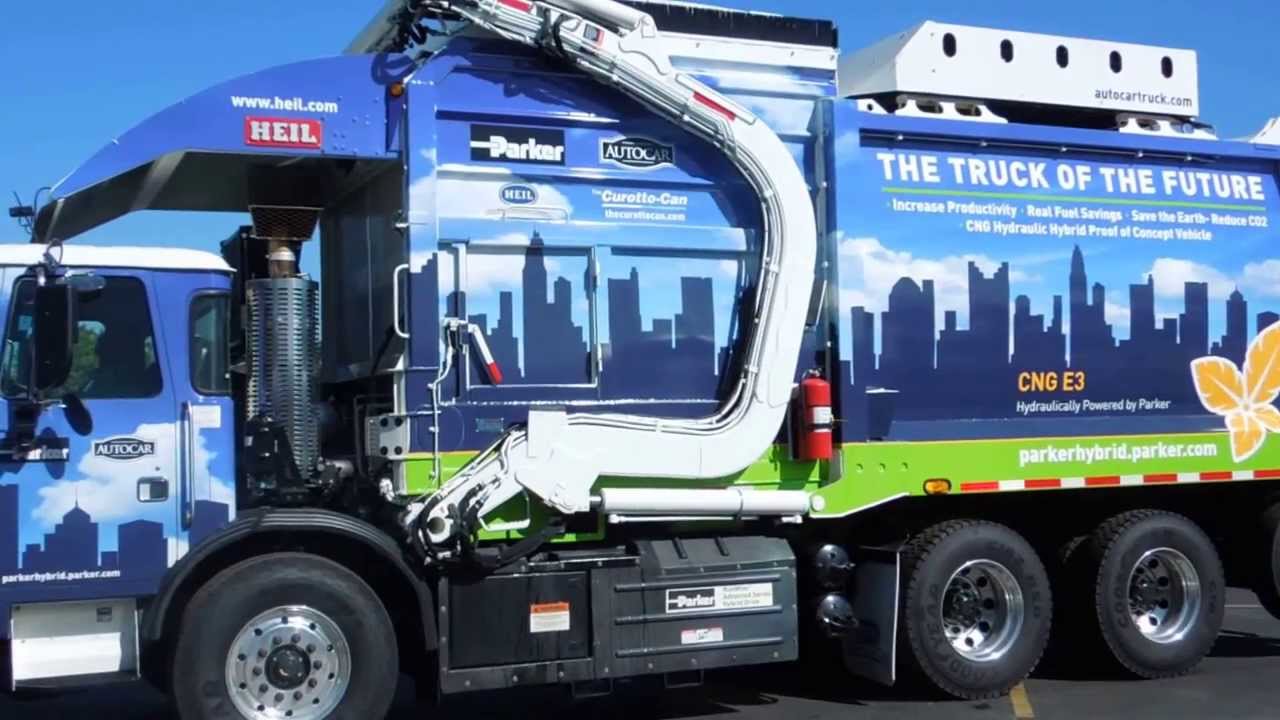 How Compressed Natural Gas (CNG) Has Changed Garbage Collection
explore our industries
Jan. 13, 2017
The Canadian marketplace for natural gas vehicles is in the midst of a renaissance as a result of more than three decades of early-stage development.
Now, fleets of all scales and services are taking advantage of reducing their operating costs and environmental impact by venturing beyond the typical OEM chassis offering and adopting what was once seen as unconventional, compressed natural gas (CNG).
Nowhere has this renaissance been more apparent than in the business of garbage collection, an industry that has subtly become quite competitive. Growing public pressures and demand for environmentally responsible initiatives have forced municipalities to scrutinize the efficiency and impact of their own or contracted fleets. As a result, we've seen companies like Waste Management commit to purchasing 80% of all new vehicles as factory-built CNG trucks and municipalities like City of Surrey implementing CNG stations to accommodate a fleet of 55 natural gas refuse trucks contracted to Progressive Waste Solutions.
With the implementation of Labrie CNG automated side loaders, proudly sold by Rollins Machinery (shameless plug), the City of Surrey now operates a sizeable fleet that emits 23% less carbon emissions and 90% less air particulates, compared to that of a traditional diesel truck. Further, studies have shown that replacing one diesel truck with a CNG truck is the equivalent to taking 475 cars off the road each year.
These chassis improvements, along with the introduction of organic waste collection, have opened to the door to the adoption of fully closed-loop systems that will see waste processed into the biofuel that powers future collection vehicles.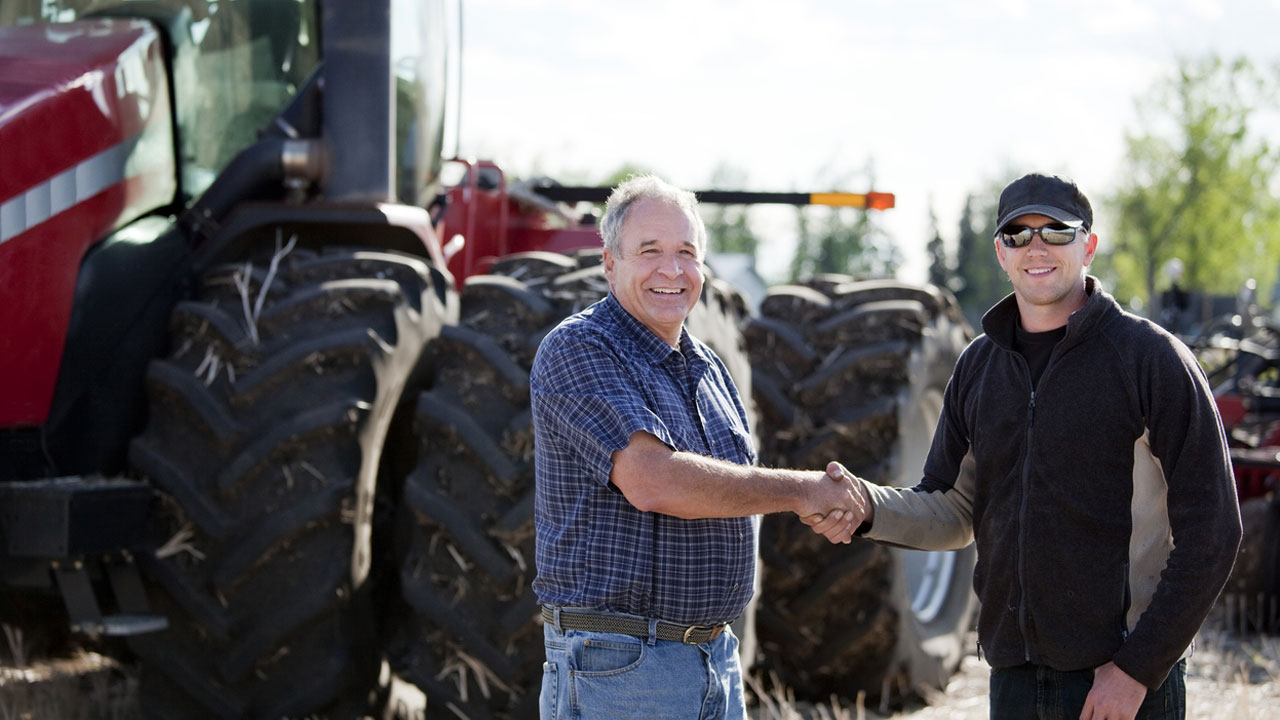 Harvest Equipment Maintenance Matters
explore our industries
Nov. 18, 2016
A pre- and post-season harvest equipment maintenance schedule makes good business sense. It reduces common engine and equipment problems, sparing you lost time and headaches, and saves you loads of money on parts and repairs.
Post-season maintenance
As the harvest season comes to a close, now's a good time to clean and inspect your equipment before parking and storing it for the winter.
The very basics of winterizing equipment involves:
General cleaning
Changing the oil and filters
Checking the cooling system
Cleaning or changing the air filters
Filling with fuel and fuel stabilizer
Greasing and lubrication
Performing these steps better protects your harvest equipment during the winter and reduces corrosion.
Pre-season maintenance
Pre-season maintenance is generally more involved, and includes tasks such as:
Lubricate Blower Bearings
Lubricate Blower Motor Bearings
Check Blower Belts and Adjust
Check and record blower motor amps
Inspect sheets for rips or missing bolts
Lubricate U-joints
Inspect divider hopper
Clean burner and pilot ports
Inspect ignitor and flame rod
Check CV Valve is operational
Check Modutrol motor is operational
Inspect inlet and outlet, including plenum cap
Inspect hatch and door seals
Check oil level in gear cases, fill as needed
Check sweeps, idler, and sprockets
Inspect unload mechanism
Clean covers, MC sensors
Inspect bindicator(s)
Check gas pressure gauges
Check gas train drain plug is open
Clean panel and tighten connections
Start up to check controls/safety circuit
Clean DC motor brushes
Protect our equipment
A proper maintenance plan maximizes operations and helps avoid unnecessary costs. By inspecting your grain handling systems, our technicians can proactively identify, repair and replace necessary parts cost-effectively, without impacting your future operations. Also, it's important to maintain harvesting equipment to original factory specifications, including factory replacement parts.
Take care of your equipment now, and it will take care of you next season! Ask about our pre- and post-season preventative maintenance programs. View our parts and services, or contact us.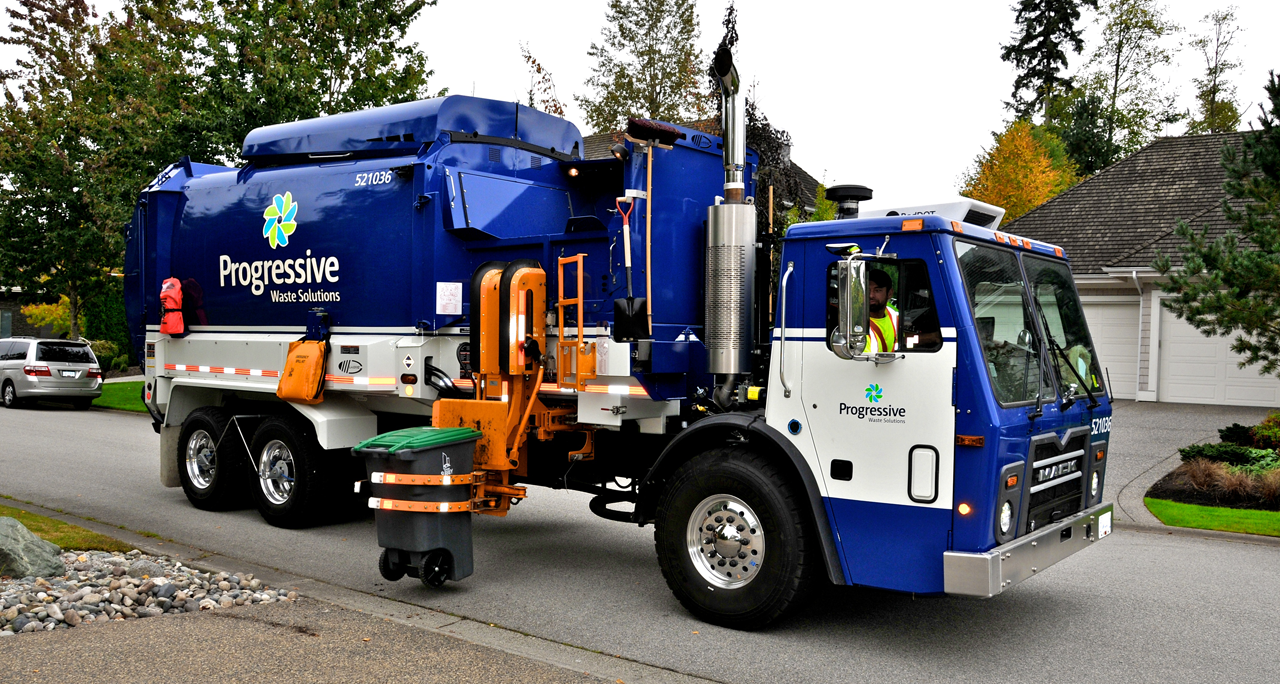 Automation Takes Over The Refuse Industry
explore our industries
OCT. 25, 2016
Automation has rapidly taken over the refuse collection industry, with municipalities turning to automated garbage and recycling trucks.
Almost all cities in Canada are now using automated garbage trucks. In a CBC report, Edmonton Councillor Ben Henderson said he's been asking about automated trucks for a long time, stating people in other cities are happy with the systems.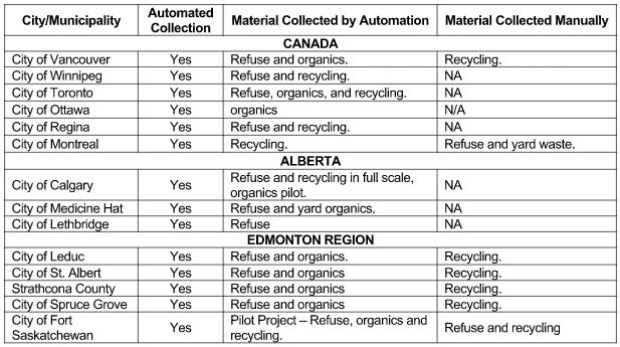 Many of the automated garbage and recycling trucks can be operated by a single driver. Automation provides operators better economy, safety, performance and durability. Affordable refuse truck options include: front loaders, rear loaders, automated side loaders and recycling bodies.
Ranging from small to over-sized body capacities, these modern automated trucks are engineered to meet all garbage and recycling needs, regardless of the size of an operation. They can generally collect in excess of 500 to 800 homes per day, depending on factors, like terrain and haul distances. And with these automated garbage and recycling trucks, rain, snow, and even wind are no longer a major issue.
To explore options surrounding automated waste and recycling trucks and containers, view our products, or contact us.