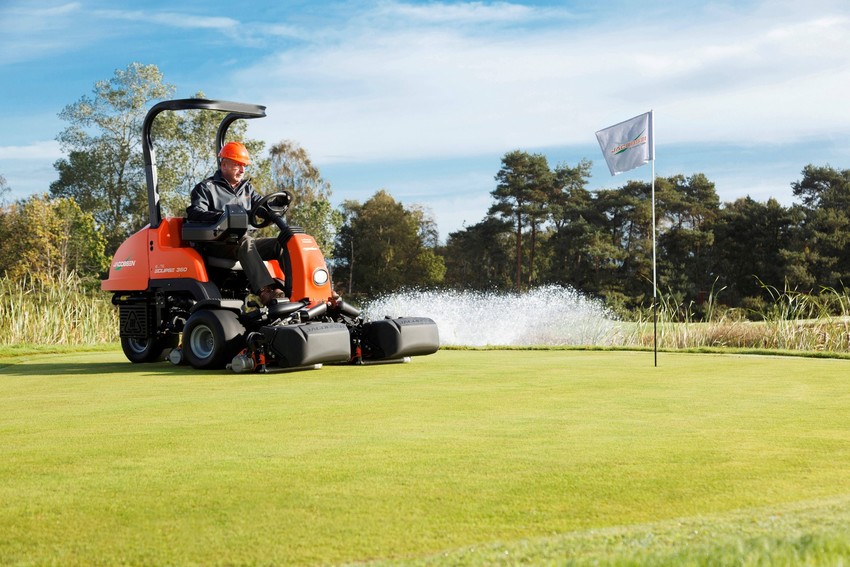 Rollins Attends the WCTA Turf Show!
explore our industries
Rollins Machinery attended the 2023 Western Canadian Turf Grass Association Trade Show at the River Rock Casino. Rollins showcased their various lines of turf equipment. This includes Tru Turf, Jacobsen, Turfco, New Holland Agriculture, and New Holland Construction.
The Jacobsen Eclipse 360 Elite is an all-electric, hydraulic-free mower. One of the key benefit of this mower is a "reduction in operation costs"(Jacobsen, 2022). As this unit doesn't have hydraulics, there is no risk of spills. Many golf courses also have holes surrounded by condominiums and apartments. As this mower is very quiet, it's possible for the grounds crew to use it during quiet hours, without disturbing the neighbours. The Eclipse 360 Elite is truly a top of the line mower.
We also showcased our Tru-Turf Greens Rollers. These rollers are "industry leading", in terms of keeping your greens in good shape, and fast. These rollers are being used on the PGA Tour, Champions Tour, and Nationwide Tour events throughout USA and Canada (Tru-Turf, 2022). When it comes to designing products, Turfco heavily focuses on product performance and efficiency. This is shown through the Turfco Widespin 1550 Broadcast Topdresser. This unit will save your grounds crew 720 passes (Turfco, 2022).
Finally, when it comes to moving material around the course, New Holland certainly offers the premium products. We have compact tractors, and various loaders in stock. We also sell New Holland Construction equipment, ranging from Skid-Steers to Mini Excavators. These units are all key to the landscaping of a great golf course.
References
Jacobsen. (2022). Eclipse 360 Elite. Jacobsen. https://www.jacobsen.com/golf-mowers/eclipse-360-elite
Tru-Turf. (2022). The only Rollers Endorsed by the PGA Tour. Tru-Turf. https://truturf.com/
Turfco. (2022). Widespin 1550 Broadcast Spreader. Turfco. https://www.turfco.com/store/c12/spinner-topdressers/p13/widespin-1550-broadcast-topdresser/